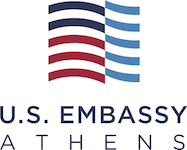 The U.S. Embassy in Athens is proud to partner with INSETE to offer discounted online courses from Cornell University to Greek tourism and hospitality professionals. The Embassy's contribution will reduce the cost of the online courses for a select number of participants. All the courses were developed by faculty from various schools at Cornell University, which has one of the leading departments in tourism studies. Each course provides learners with skills that can be immediately applied at their organizations. Recognizing the important work that InSETE is performing in offering capacity building programs to Greek tourism professionals and organizations and growing the Greek tourism industry, the U.S. Embassy is happy to expand the collaboration with InSETE & Cornell University, by organizing an educational event next Fall with experts from Cornell University.
Με μεγ?λη χαρ?, η Πρεσβε?α των Η.Π.Α. στην Αθ?να συνεργ?ζεται με το ΙΝΣΕΤΕ για την προσφορ? διαδικτυακ?ν μαθημ?των απ? το Πανεπιστ?μιο του Cornell σε επαγγελματ?ες του ελληνικο? τουρισμο?. Η συνεισφορ? της Πρεσβε?ας θα μει?σει το κ?στος των διαδικτυακ?ν μαθημ?των για ?ναν συγκεκριμ?νο αριθμ? συμμετεχ?ντων. ?λα τα μαθ?ματα ?χουν σχεδιαστε? απ? τους ακαδημα?κο?ς διαφορετικ?ν σχολ?ν του Πανεπιστημ?ου Cornell το οπο?ο ε?ναι ?να απ? τα κορυφα?α εκπαιδευτικ? ιδρ?ματα της Αμερικ?ς στον τομ?α του τουρισμο?. Κ?θε μ?θημα προσφ?ρει στους συμμετ?χοντες δεξι?τητες και γν?σεις που μπορο?ν ?μεσα να εφαρμ?σουν στον οργανισμ? τους. Αναγνωρ?ζοντας το σημαντικ? ?ργο του ΙΝΣΕΤΕ στην εκπα?δευση των επαγγελματι?ν στον τομ?α της φιλοξεν?ας και την αν?πτυξη του ελληνικο? τουρισμο?, η Πρεσβε?α των Η.Π.Α. συνεργ?ζεται επ?σης με το ΙΝΣΕΤΕ και το πανεπιστ?μιο Cornell, για την διοργ?νωση μιας εκπαιδευτικ?ς εκδ?λωσης, το επ?μενο Φθιν?πωρο με την συμμετοχ? ειδικ?ν απ? το πανεπιστ?μιο Cornell.
About the Institute of Greek Tourism Confederation - INSETE
The Institute of Greek Tourism Confederation (INSETE) is a non – profit organization, founded in 2013 in order to raise awareness by providing up to date information, enhance business quality, disseminate knowledge and promote the development of human capital.
SETE Training is the educational and vocational training pillar of INSETE aiming to equip tourism professionals with the skills and competencies necessary that will enable them to enhance the tourist product of the country. Part of SETE Training's action is the organization of executive seminars across Greece in a plethora of subjects.
SETE Training, operating under the Institute of Greek Tourism Confederation in strategic partnership with Cornell University, offers 100 eCornell course licenses exclusively for Greek tourism Industry's professionals at the preferential price of $190 from $769.
The courses are designed by Cornell University professors in order to address the needs of the current professional environment and tailor-made for the highly demanding schedule of the modern professional.
In order to provide, easier access to these high-end training courses to all tourism professionals, 70% of the cost is covered by the Institute of SETE. Eligible participants will have the chance to choose 1 out of 148 available courses, among 7 thematic categories.
About eCornell
eCornell regularly surveys their students to ensure the programs provide them with the real-world skills they need to succeed in their careers. Through these surveys they found that:
95% of students say that the material is applicable to their job responsibilities.
93% report that what they have learned will directly impact their performance.
Ivy League Curricula & Top-Ranked Faculty
eCornell's unique approach to online learning combines the most effective elements of an Ivy League classroom with the flexibility of an online learning environment. eCornell courses are all developed by Cornell University faculty, and often include practical insights from other industry experts.
Self-Paced But Instructor-Facilitated
eCornell courses—while self-paced and 100% online—are facilitated by subject-matter experts, who guide you, challenge you, and help you apply the course concepts to your real-world, on-the-job circumstances. Courses are designed to accommodate the schedules of busy professionals, so they are available around the clock and completely asynchronous. This means that once you begin your course, there is no appointed time or day that you must be online.
Start and End Dates Drive Completion
eCornell courses have defined start dates and end dates. A critical part of self-directed learning is to have a finish line. Each course is a structured 2 week time frame. Should you need to transfer out of a scheduled course you will need to do so by 5:00pm EST the day prior to the course starting. You can transfer a course by emailing droptransfer@ecornell.com and requesting a new start date.
Interaction & Collaboration
As an eCornell student, you are never alone in your course. You are part of a course that is made up of eCornell students from all over the world. Required discussions play an important part in your course, giving you and your colleagues the opportunity to share and exchange your own experiences, best practices, perspectives, and examples.
Application Process
Application Process: (Read these instructions carefully before proceeding with application process)
In order to request access to a course please select "Apply Now"
Fill in the details on the redirected site of Eventora
Your application will be processed and you will get notified via email for the next steps you need to follow.
eCornell Resources
Should you need anything technical or access related please reach out to the eCornell Help Desk at (800) 801-0287 or at helpdesk@ecornell.com.
To check your computer technical requirements visit: http://www.ecornell.com/about-ecornell/help/technical-requirements/ or you can contact the Help Desk.
Any other eCornell related issues, please reach out to your Learning Consultant, Christina Clifford at cclifford@ecornell.com
Certificates
Expand or collapse Certificates
To view the certificate requirements and details, click the certificate name below.
Courses
Expand or collapse Courses
To view the description, dates and times offered, and additional information about a course, click the course name below.